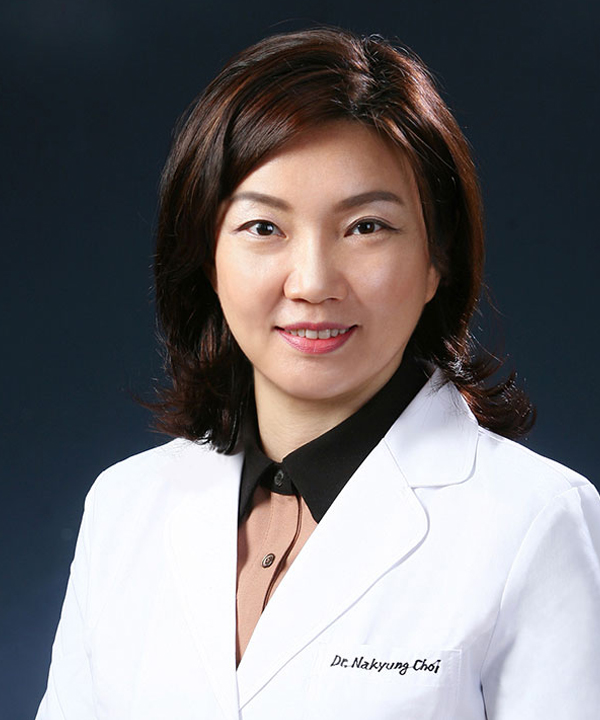 Na Kyung Choi, Ph.D, L.Ac
Na Kyung Choi received her Master of Science degree in acupuncture and Oriental medicine in 2009 from South Baylo University, CA, and Ph.D. in acupuncture and Oriental medicine in 2012 from American Liberty University, CA.
Dr. Choi is nationally board certified in acupuncture and Oriental medicine by the National Certification Commission for Acupuncture and Oriental Medicine (NCCAOM) and she is currently a licensed acupuncturist and herbalist in both New Jersey and California.  And she specializes in gynecology, facial rejuvenation, and autoimmune diseases, such as rheumatoid arthritis, Sjogren's syndrome, systemic lupus erythematosus, and Behcet's disease.
Dr. Choi completed her acupuncture and Oriental medicine training in South Korea, at Chamsarang Oriental Medicine Clinic, focusing on women's health and weight control, and at Gaonjari Oriental Medicine Clinic, where she interned with a concentration on autoimmune diseases and cancer treatment.
She also received training and certifications in different types of acupuncture: SNS (Segmental Nerve Control), Mei Zen (cosmetic acupuncture), Hong Chim (Korean cosmetic acupuncture), and Kiiko Matsumoto (Japanese style acupuncture). She has an extensive range of clinical experience with people of all ages and various health problems.
Dr. Choi believes in holistic medicine and treating a person as a whole and implementing herbal medicine and acupuncture to optimize healing process. And to expand her passion in acupuncture and Oriental medicine, she has been teaching Shang Han Lun and Jin Gui Yao Lue (strategy of Chinese medicine by Zhang Ji) to a group of professional acupuncturists for 2 years. She also took numerous medical mission trips to Peru (2008), Ukraine (2009), and Mexico (2008, 2009).
Moreover, Dr. Choi worked on a journal publication, "The Study of Menstrual Disorders Treatments in the view of Shang Han Lun" in 2011. And she enjoys interacting with people and helping others to understand how the body can be healed through natural medicine.